Friday 15 March, 2013
2013 Golden Circle Awardee: Cassie Chinn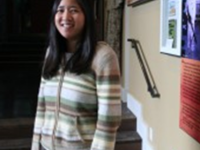 "Instead of being led by curators, we [The Wing Luke Museum] are led by communities." —Cassie Chinn
Cassie Chinn grew up in South Seattle, the daughter Kris and Chuck Chinn, popular former Principal in the Seattle School. After graduating from Franklin High School, she pursued a degree in Art History at the University of California at Berkeley. She returned to Seattle and completed her Master's degree in Art History at the University of Washington, and earned a teaching degree at Seattle University.
"Community members become the curators and they decide on the design, content and vision of each exhibit." —Cassie Chinn
Currently, Chinn is the Deputy Executive Director for the Wing Luke Museum and has served as the advisor for several award-winning exhibits. Previously, she had served in program development, planning for the new museum and community engagement. Many credit her astounding effort in the Wing Luke Museum's Capital Campaign where over the course of ten years, she helped to raise over $23 million to support the relocation of the museum to the East Kong Yick Building in the center of Chinatown/International District.
Over the many years that she has been at the museum, she has helped pioneer, through quiet leadership, tact and steely determination, the innovative community-engagement museum model, where elders, students, activists and community members come together to develop exhibits and programs based on oral histories, intergenerational dialogue and attention to contemporary social issues.