Tuesday 14 June, 2016
ACRS Walk For Rice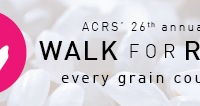 Join OCA-Greater Seattle on Saturday, June 25th, 8:00AM – 1:00PM at Seward Park (5902 Lake Washington Blvd. S) for the 26th Annual ACRS Walk For Rice. To join our team sign up here.
Walk for Rice is a fund-raising event featuring a 2.5 mile walk/run. Each year, over 1,000 participants help raise money for Asian Counseling and Referral Service (ACRS) to buy rice and other food for the ACRS Food Bank.
The ACRS Food Bank is the one of the most visited food banks in King County, and the only one in the state that regularly provides foods that are familiar to the Asian and Pacific Islander (AAPI) diet. Each year, more than 5,136 people rely on our food bank and nutrition programs to have enough to eat. Neary 70% of our clients are children under 18 years or seniors the average age of 73 years old. Most come from low-income, AAPI households. Our food bank is located in Seattle's Chinatown International District and provides items like rice, tofu, noodles, fish and fresh produce. Our goal is to help clients lead healthy lives by providing them with nutritious food.