Saturday 18 April, 2015
Polynesian Day!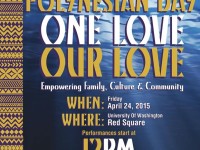 OCA-Asian Pacific Advocates is a proud community sponsor of Polynesian Day!
The Polynesian Student Alliance at the University of Washington presents Polynesian Day 2015 "One Love, Our Love: Empowering Family, Culture & Community." Poly Day will take place at the University of Washington on Friday, April 24th! In the morning Poly Day will kickoff with workshops & fun interactive activities for high school students who registered covering the university admission process, keynote speakers, Polynesian history, and more!
Around noon, the committed members of PSA will host the signature celebration of "Poly Day," in honor of their heritage, on Red Square for all to attend. This celebration is a popular event that showcases authentic Polynesian and Pacific Islander (P.I.) music, dance, and regalia from the islands of Tonga, Tahiti, Samoa, and Hawaii right at the hear of the UW campus.
This annual event aims to voice the presence of a lively and active P.I. community on campus and motivate younger generations of P.I.'s to pursue higher education at the UW.
This is by far one of the biggest events on campus, and most rewarding.
High School Students!!!
Please register for Poly Day which includes:
-Breakfast
-Educational & Cultural Workshop
-Lunch
-Prizes and more!
https://catalyst.uw.edu/webq/survey/reach/267018
Fun things to expect on Red Square during Poly Day:
PLATE SALE (Price ranges from $5 – $10):
-Chicken Teriyaki
-Mochiko Chicken
-Yakisoba (Vegetarian)
-Rice
-Spam Musubi
-Taro
-Bottled Water
Printers Bloc:
-UW Tribal Husky Gear!!!
Clothing Vendor:
-P.I. Designed T-Shirts!!
UW Micronesian Islands Club :
-Tickets for Micronesian Night 2015!
Te Fare O Tamatoa / Te'a Rama :
Tickets for Te Fare O Tamatoa 2015 Tahitian Showcase!
For more information, look at the Facebook page here!