Saturday 18 April, 2015
Join Our Team!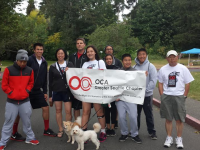 It's that time of the year again, join OCA-Asian Pacific Advocates, Greater Seattle in supporting Asian Counseling and Referral Services (ACRS). ACRS's Walk For Rice is a fundraising event featuring a 2.5 mile walk/run that supports ACRS Food Bank. Each year, about 1,000 participants help ACRS buy rice and other food for the ACRS Food Bank.
ACRS' Food Bank is the one of the most visited food banks in King COunty, and the only one in the state tat regularly acquires foods to meet Asian Pacific dietary needs. More than 5,500 people a year rely on ACRS's Food Bank and Nutrition Programs to have enough to eat. Most are children under 18 years old or seniors over 55; most come from low-income, Asian Pacific American households.
Each year, OCA-Asian Pacific Advocates, Greater Seattle particpates at Walk For Rice. In addition, for every person that registers for our team, we will donate $5 to Walk For Rice! Sign up and join here: Walk For Rice
Walk For Rice will be on,
Saturday, June 27, 2015
8:00AM – 12:30 PM, at Seward Park 5902 Lake Washington Blvd S.
ACRS offers shuttle service from ACRS on 2629 MLK Jr. Way S. You can park for free in their lot and catch the bus to Seward Park. Shuttles begins at 8:00 AM and continue every 20-30 minutes until 1:00PM.
NOTE: PARKING IS LIMITED IN THE PARK. Please make arrangements to carpool or use public transit. Metro Route 50 serves the Seward Park area; you can also visit Metro Trip Planner for more personalized routes.
Everyone is welcome to register and so are friendly, leashed dogs!