Saturday 04 April, 2015
A Vietnamese Journey to Freedom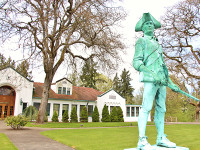 The Vietnamese Mutual Assistance Association (VMAA) cordially invites the public to join members of the Vietnamese community to celebrate "A Vietnamese Journey to Freedom," at Camp Murray (adjacent to Joint Base Fort Lewis/Mcchord) on:
April 26, 2015 (Sunday)
Noon to 4:00 p.m.
April 2015 marks the 40th Anniversary of the use of Camp Murray as the temporary site to process and resettle the first 5,000 Southeast Asian refugees arriving in Washington State after the fall of Vietnam.
The Celebration is free and the program will include comments from former Governor Dan Evan who welcomed the Vietnamese in 1975 and other former and current elected officials. Lunch and entertainment will be provided.
To attend please:
RSVP by April 21st to Lnguyen5921@gmail.com or call (206)898-0228.
You must bring photo I.D. to enter Camp Murray as it is a military base.
The VMAA is a nonprofit organization that provides no cost educational assistance to youth and cultural activities for all.
Contact Person: Kim Long Nguyen
Lnguyen5921@gmail.com
(206) 898-0228