Wednesday 31 December, 2014
2014 Year in Review
OCA Greater Seattle Highlights of Activities
Golden Circle Awards: Some 225 persons attended our annual Golden Circle Awards, which took placed on February 8 at Joy Palace Restaurant. The Honorees were Bettie Luke, Donnie Chinn (International District Emergency Center), Seattle Chinatown International District Preservation and Development Authority, and Joyce Pisnanont. Angelo Salgado, one of our new board members, chaired the event.

Targeted Local Hire: OCA Greater Seattle joined other organizations and testified before the Seattle City Council in support the Targeted Local Hire Resolution. In recent years, the percentage of workers that lived in Seattle that worked on all the public works projects funded by the City of Seattle total a meager 6 percent. [The percentage of Asian Pacific Islander workers was one percent.] Cities like Los Angeles and San Francisco already have resolutions promoting the local hiring of workers on their Public Works projects. A City ordinance titled Priority Hire, which is based on the Targeted Local Hire concept, is now before the Seattle City council and expected to pass.
Chinese in Washington State book:  We began marketing the book and so far have sold about 200 books to local bookstores, libraries and museums. An effort will be made to sell to local schools.

Police Chief Jeffrey Chen: OCA Greater Seattle supported former City of Medina Police Chief Jeffrey Chen in his 3-year discrimination case against Medina's city administration. A federal jury found racial discrimination against Chen a couple of years ago. But the City of Medina appealed the decision and a new jury reversed that decision. Chen informed OCA that he will appeal this latest verdict.
UW SE Asian Recruiter: Earlier this year the UW eliminated a vital position to the Asian community, the position of Southeast Asian Recruiter, which seeks students of Southeast Asian heritage to attend the UW. The Asian Pacific Islander community felt this was a significant setback to the educational efforts of prospective Southeast Asian students who dream of attaining a college education. The Southeast Asian community does not have equal access to higher education and the UW's approach in combining all the Asian groups has an adverse effect on prospective Southeast Asian students desiring to attend the UW. OCA, along with other members of our Asian American community met with UW administration and demanded that UW reinstate this position so that the Southeast Asian community has access to a quality education, and the university agreed.
2014-2015 Spectrum Scholar: Our Treasurer, Chi Saeteurn, was named a 2014-2015 Spectrum Scholar! Chi is pursuing her Masters in Library and Information Science at the San Jose State University School of Library and Information Science and was also recently promoted into a temporary Library Associate IV position in the Southwest Region here at Seattle Public Library. The Spectrum Scholarship Program is the American Library Association's national diversity recruitment effort for librarians.
King County Election Committee: Over the past year, our board member Bruce Huang learned about King County elections operations and attended Election Observer training. Bruce introduced himself at APACE (Asian Pacific American Coalition for Equality) board meeting and garnered their support. He reached out to King County's Citizens' Elections Oversight Committee Chinese speaking representative, Susanna Chung, and met with King County Elections Section 203 (of the Voting Rights Act) staff Collen Kwan for background and advice on this position as the Chinese rep. He then worked with King County Councilperson Rod Dembowski's staff to come up with creative ways to expand limited English proficiency services beyond languages that are currently covered by Section 203. Bruce also attended the National Commission on Voting Rights' Pacific Northwest hearing and provided testimony on the success of King County Elections and the shortcomings of upholding Section 203.
Seattle Social Security Office. For over two years, we have joined forces with other community groups to protest the closing of the Social Security branch office in the International District and its relocation to the Federal Building in downtown Seattle.The move to the Federal Building has resulted in a significant reduction in client visits — a 25% overall and a 60% drop among English as a Second Language clients. A recent report by the U.S. Senate Special Committee on Aging, confirms our findings: It was found that the Social Security Administration has been closing offices and reducing services "generally, without considering the needs of communities and without consulting beneficiaries or field office managers." OCA Greater Seattle will continue to press the local Social Security Administration to establish a branch office in Southeast Seattle, to better serve APIs and others in Seattle.
Tacoma Arts Museum: We continue to meet with TAM Administration to push for the acquisition of Chinese American art and to encourage TAM to provide funds to construct a memorial of some sort in Tacoma that reflects on the anti-Chinese riots in that city in 1885. It appears that TAM is willing to consider local Chinese Americans as part of the team that will acquire Chinese American art and that TAM is prioritizing the construction of a memorial on a piece of property that was formerly owned by the railroads, located in-between TAM and University of Washington/Tacoma.
Walk in the Park/Spring Luncheon: About 50 members attended the OCA-Greater Seattle's Spring Luncheon and were treated to a delicious 11-course meal at Seven Stars Pepper Szechuan Restaurant on Saturday, May 24th. Before the luncheon, a number of the attendees joined us for our 'Walk in the Park' series at nearby Jose Rizal Park and Daejeon Park.
Hepatitis B: Our organization joined with other hepatitis B (HBV), health and civil rights advocates and organizations in urging the Congress to initiate legislation action this year to require the Department of Defense and service branches to update their policies so that they are consistent with the Center for Disease Control's (CDC), and to codify separate policies for personnel with chronic HBV. This disability disproportionately affects Asian and Pacific Islander Americans who comprise less than 5 percent of the U.S. population but account for more that 50 percent of the estimated 2 million people in the U.S. living with chronic HBV.
International Examiner: Our chapter provided a $5000 grant and a $10k loan to the financially troubled International Examiner. In addition, we prepared and secured an $13K grant for the Examiner for the preparation of a "best of the Examiner" book and may provide it with another $22K grant for a video on "The Asian American Struggle for Racial Equality." In total, OCA Greater Seattle could possibly provided some $50k to help the Examiner become a financially viable, multi-media educational, arts/cultural, and heritage organization.
Awards and Recognition
This year at the OCA-Asian Pacific Advocates national convention in Los Angeles our chapter was recognized for two awards in Membership and Advocacy. OCA-Greater Seattle has an intergenerational membership and is more than 100 members and growing! But most importantly, OCA-Greater Seattle was recognized for its advocacy work in Seattle. From the inappropriate sale of Al Young family's priceless Chinese artifacts by the Tacoma Art Museum to the reinstatement of the Southeast Asian Recruiter at the University of Washington, OCA-Greater Seattle works hard at advocating for civil rights and the Asian and Pacific Islander American community. We look forward to continue this success of advocacy and social justice this upcoming year!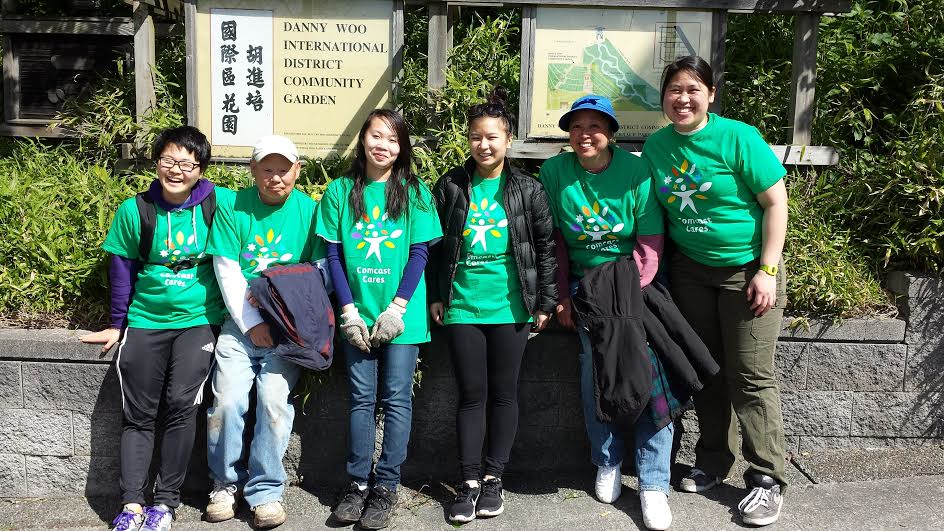 OCA participants at the Chinatown/International Spring Clean up.
Support Hyatt Hotel Workers: OCA-Greater Seattle sent a letter to the Owners of the Seattle downtown Hyatt encouraging them to allow its workers to vote for unionization and also participated in a rally at the hotel for unionization.
Year-end luncheon: Some 80 persons attended our membership luncheon at Venus Restaurant in Southeast Seattle on Veterans Day, November 14. The theme of the luncheon centered on the 1965 Civil Rights Act and honor veterans.
PICA: OCA Greater Seattle held the 2014 Pre-Conquest Indigenous Cultures and the Aftermath (PICA) Conference on November 7,8 and 11. PICA is a collaborative effort among a group of students, faculty and community members from the University of Washington's American Ethnic Studies department, OCA-Greater Seattle (formerly Organization of Chinese Americans) and Heritage University of Yakima, Washington. Building upon the positive feedback and popularity of our inaugural conference, this year's PICA theme was "50 Years: A Celebration of the 1964 Civil Rights Act". Our 3-day event included films, presentations, entertainment, food and more.
Meeting with Mayor Murray and Police Chief on Crime: On Thursday, December 18, members of OCA-Greater Seattle and other concerned people attended a meeting with Mayor Ed Murray and Seattle Police Department Chief Kathleen O'Toole and other staff members at City Hall to discuss the concerns shared by many Asian and Pacific Islander Americans (APIA) regarding enforcement of hate crime arrests, the victimization of APIs and APIAs, the need for greater outreach and other issues.
The meeting was prompted by an incident that occurred on September 28 involving two white men who threw lit cigarettes, beer cans and yelled racial slurs at two Asian women walking at the UW. Issues addressed at the meeting included:
1) the hiring of culturally competent and/or bilingual officers assigned to the North Precinct to serve the ever growing number of students from Asia and Asian Americans attending the UW;
2) hiring a dedicated staff to work with Asian students or non-students on their rights and how to report hate crimes, assaults, bullying, etc. to the SPD; and
3) jurisdictional issues between the UW campus police and the Seattle Police department. The Mayor and Police Chief also affirmed their commitment to a No Tolerance Policy on Hate Crimes. Some of the solutions discussed and shared were community outreach classes used effectively by the Seattle Police department on cross-cultural training and seminars that would be taught by the Seattle police on hate crimes – definitions of the crime, reportage and outreach.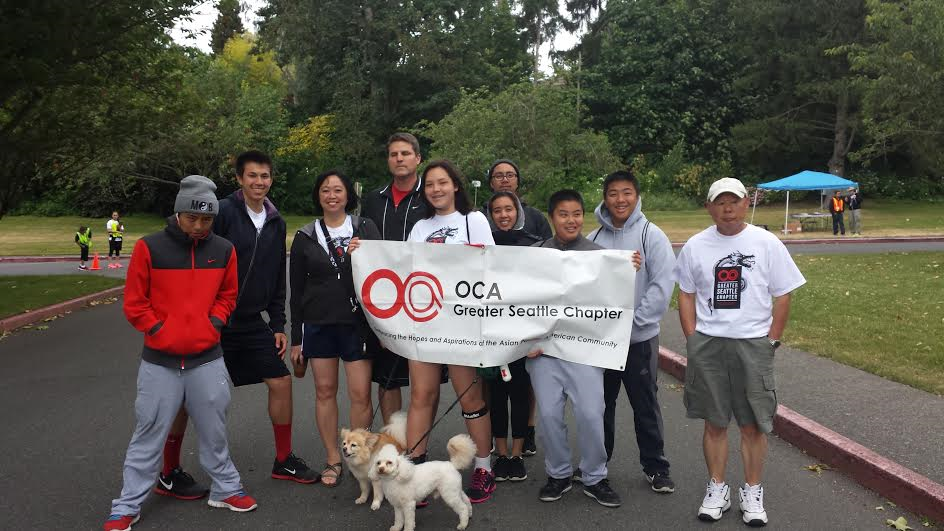 OCA participants at the ACRS's Walk for Rice fundraiser at Seward Park.
Leadership change, membership and financial status: In the latter half of the year, Kevin Chao assumed the presidency of the chapter, our paid membership was at 105, and our net assets amount to about $40K.
Happy New Year!