Thursday 23 October, 2014
2014 PICA Conference | 50 Years: A Celebration of the 1964 Civil Rights Act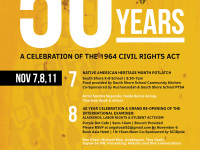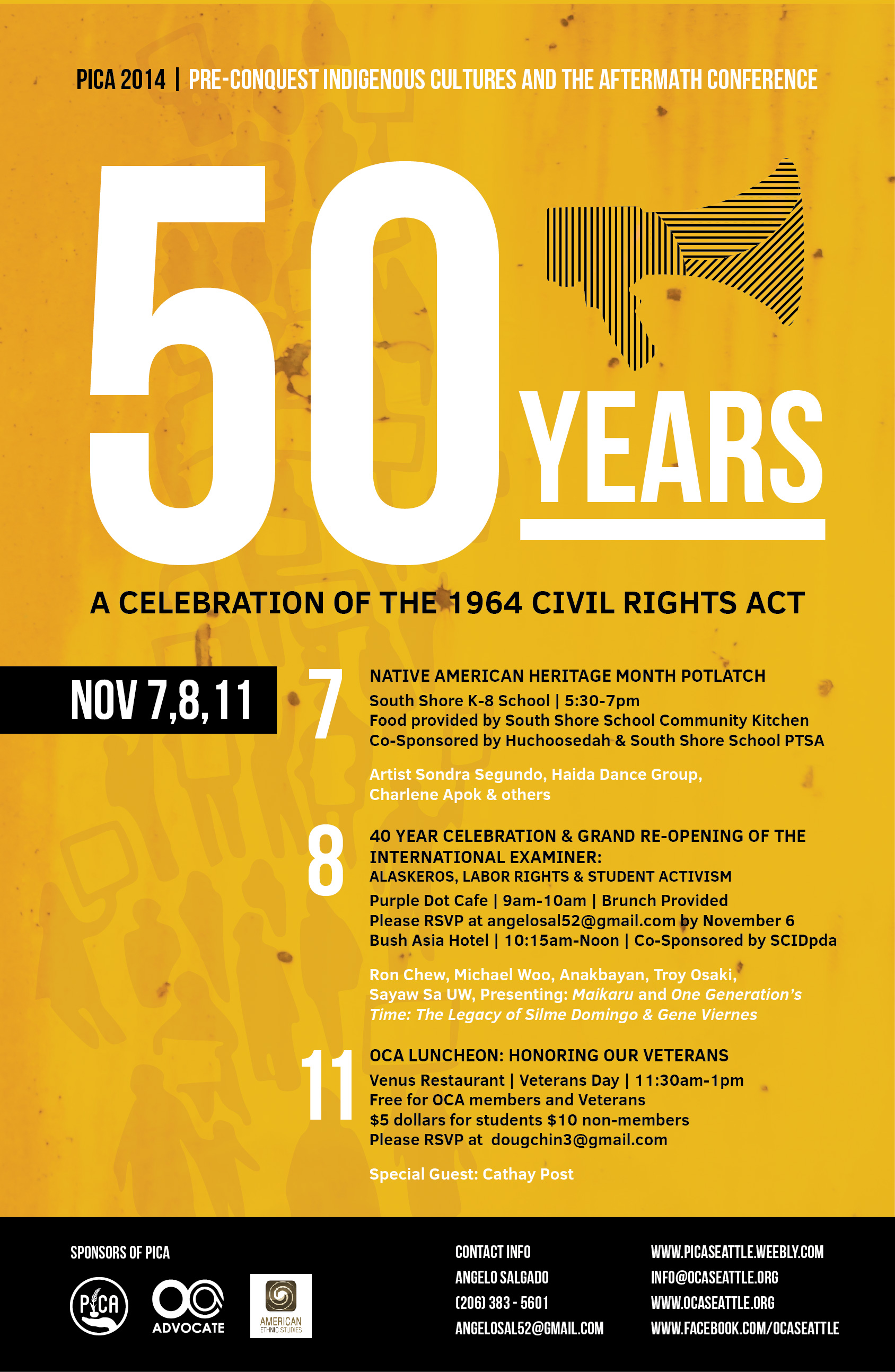 OCA-Greater Seattle is proud to announce our schedule for the 2014 Pre-Conquest Indigenous Cultures and the Aftermath (PICA) Conference, November 7,8, and 11, 2014.
PICA is a collaborative celebration of the histories of local multiracial and multicultural groups. In 2013, PICA was created as a collaborative effort between a group of students, faculty and community members from the University of Washington's American Ethnic Studies department, OCA-Greater Seattle (formerly Organization of Chinese Americans) and Heritage University of Yakima, Washington.
Building upon the positive feedback and popularity of our inaugural conference, this year, the PICA theme is "50 Years: A Celebration of the 1964 Civil Rights Act" Our 3-day event will include films, presentations, entertainment, food and more. Attached is a tentative schedule for this year's PICA conference. We encourage you to view this link to our website for more information: www.picaseattle.weebly.com
Schedule
Friday, November 7 at 5-7pm
Native American Heritage Month Potlatch
Location: South Shore K-8 School 4800 Henderson St, Seattle 98118
Presentation on Legacy of Billy Frank, Jr./Judge Boldt Decision
Presentation on Bernie Whitebear
Artist Sondra Segundo on Indigenous Cultures Day
Haida Dance Group
Red Nations
Potlatch: Food provided by South Shore Community Kitchen
Saturday,November 8 at 9am-12:00pm
40 Year Celebration & Grand Re-Opening Of the International Examiner: Alaskeros, Labor Rights & Student Activism
Location 9-10am: Purple Dot Café, 515 Maynard Ave S, Seattle, WA 98104
Please RSVP to angelosal52@gmail.com by November 6
Location 10:15am-12:00pm: Bush-Asia Center, 409 Maynard Ave S Seattle, WA 98104
Poems of Bulosan and other Filipino American cannery workers (displays)
Presentation on Wards Cove v. Atonio, 1989
Sayaw Sa UW
Spoken Word Artist: Troy Osaki
Anakbayan
South Shore/Cleveland High Lion & Dragon Dancers
Films:
One Generation's Time: The Legacy of Silme Domingo & Gene Viernes (59′)
Maikaru (7'), award-winning documentary about Seattle's Makairu Duonglixay-Cloud, half-Lao, half-Tlingit and human trafficking
November 11, Tuesday (Veterans Day) – OCA Luncheon: Honoring Our Veterans at 1030am-Noon
Location: Venus Chinese Restaurant, 7101 Martin Luther King Jr Way S, Seattle, WA 98118
Free for OCA members and Veterans
$5 dollars for students $10 non-members
Please RSVP at dougchin3@gmail.com by November 8
Civil Rights Tribute: Wong Chin Foo & the Chinese Equal Rights League (first national Asian American activist), Yuri Kochiyama, Billy Frank, Jr., Maya Angelou, – activists who passed away in 2014.
Special Guests Cathay Post
Introduction of OCA-Greater Seattle officers
We look forward to seeing you there! For updates on the 2014 PICA Conference check out the event page at www.facebook.com/picaseattle and like OCA-Greater Seattle on Facebook at www.facebook.com/ocaseattle.
Best,
Angelo Salgado