Wednesday 09 April, 2014
Walk in the Park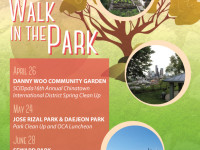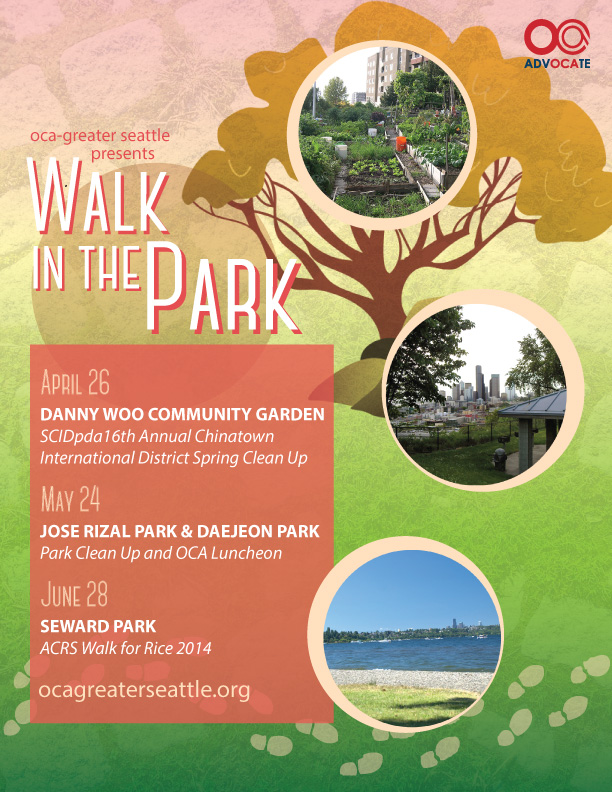 Hello everybody,
It's that time of the year again where the weather is becoming nicer and people are enjoying the outdoors more often. Why not spend these beautiful days with the OCA-Greater Seattle at our Walk in the Park series? This year we will be highlighting some of Washington's beautiful Asian parks where we will be going on walks, cleaning up, and eating great food!
Our first event is the 16th Annual Chinatown-International District Spring Clean Up. Our team will be cleaning up the Danny Woo Community Garden. Please respond by Friday the 11th. RSVP with your names and shirt sizes to jaelyamamoto@gmail.com and if you have anyone under 18 please fill out the attached Parental Consent and Release from Liability for Minor form.
Our schedule is as follows:
April 26:
Danny Woo Community Garden
16th Annual Chinatown-International District Spring Clean Up
8:30 am – 10:30 am
May 24:
Jose Rizal Park & Daejeon Park
Park Clean Up and OCA Luncheon
10 am – 11 am (Jose Rizal)
11 am – 12 pm (Daejeon Park)
12 pm – 1 pm (OCA Luncheon; location TBD)
June 28:
Seward Park
Walk for Rice 2014
8 am – 12 PM
Hope to see everyone there!