Wednesday 12 June, 2013
Event Info: Changing the Narrative: APIs in media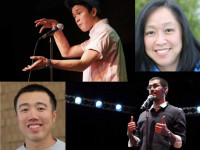 EVENT TO EXPLORE PORTRAYAL OF ASIAN PACIFIC ISLANDER AMERICANS IN MEDIA
Japanese American Citizens League presents 'Changing the Narrative'
SEATTLE — The public is invited to attend a free event "Changing the
Narrative: Asian Pacific Islanders in Media" at Seattle University.
This fun, high-energy event will feature Kevin Bang, co-founder of the
Seattle Asian American Film Festival; Connie So of the University of
Washington (UW) American Ethnic Studies Department; Troy Osaki, spoken
word poet and UW student; John Eklof, spoken word poet and Cultural
Center Coordinator at South Seattle Community College; Alix "Ponyboy"
Kolar, executive producer of "R/EVOLVE"; and other community
organizers.
Speakers and performers will discuss the real-life impact of common
Hollywood narratives about Asian/Pacific Islanders (API) – including
the fetishization of API women, desexualization of API men, and
erasure of API Lesbian, Gay Bisexual, Transgender, and Queer (LGBTQ)
people. Additionally, speakers will discuss work being done by APIs in
the media today.
All ages are welcome and encouraged to attend. Japanese American
Citizens League (JACL) is especially excited for LGBTQ youth and
allies to network, connect, and share this safe space.
"Changing the Narrative" has received invaluable support and
advisement from Connie So and Willon Lew of Seattle OCA. It is
sponsored by Seattle JACL, Seattle OCA (formerly Organization of
Chinese Americans), the Fred T. Korematsu Center for Law and Equality,
and Seattle University Office of Multicultural Affairs.
This free event will be 4 – 6:30p.m. Saturday, July 13, at Seattle
University's Casey Commons: 901 12th Ave. Seattle. To learn more, go
to http://tinyurl.com/APIinMedia and join the conversation on Twitter
with the hashtag #AznsInMedia.