Friday 15 March, 2013
2013 Golden Circle Awardee: Cheryl Chow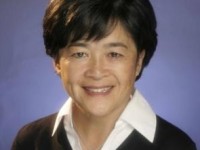 "Parents and kids, don't be afraid of saying that you're gay. I was afraid for over 60 years and those 60 years were wasted…" —Cheryl Chow
Cheryl Chow grew up in South Seattle, the daughter of long-time community activists, Ping and Ruby Chow. Ruby also served as a King County Councilwoman was a famed restaurateur. Chow followed in her mother's footsteps; she became an activist for Asian Americans and a local politician. She coached the Seattle Chinese Girls Drill Team for nearly 50 years and the Seattle Chinese Athletics Association.
In 1989, Chow was elected to the Seattle City Council, where she served for two terms. In 1990, she returned to one of her great passions: Education and serving the young. For more than 40 years, Chow's educational service included teaching and serving on the Seattle School Board (elected 2005-2009, served as Board President in 2007 and 2008).
"Everything she was about was advancing the welfare of children." —Steve Sundquist, Seattle School Board
She also led Franklin and Garfield High Schools as their principal, as well as Sharples Junior High (now Aki Kurose). She has served as the Director of Outreach for the Girl Scouts. In recognition of Chow's devotion to the city, last year, September 17th was officially commemorated as Cheryl Chow Day.
Last year, Chow revealed her battle against brain cancer and publically came out as a lesbian. She has spoken about her regret for not coming out earlier and considers it her "last crusade" to empower young people, especially the students that she taught, who have been struggling with their sexual identity.