Monday 08 October, 2012
Editorial by Chapter President Doug Chin: Stop Racial Hazing in the Military, Save Lives, Rest in Peace Pvt. Danny Chen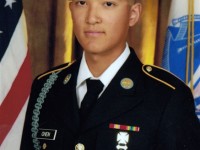 One year ago, on October 3rd, Private Danny Chen was found dead in a guard tower in Afghanistan. Private Chen, who was born and raised in New York's Chinatown and just 19 years old, was a victim of constant hazing, racial taunts, excessive maltreatment, and assaults by fellow soldiers. Eight fellow soldiers (all of Company C, 3rd Battalion, 21st Regiment, 1st Stryker Brigade Combat Team, 25th Infantry Division) were charged with manslaughter and other crimes with Chen's death, which the Army claims was suicide.
Military investigators found that Chen was the target of ethnic slurs and assaulted by fellow soldiers before his death. This occurred on a daily basis for six weeks. As the only Chinese American soldier in the unit, he was signaled out, endured taunts including racial slurs like "gook, chink and dragon lady," assigned excessive guard duty to the point of
exhaustion, made to do push-ups while holding water in this mouth, put in a "simulated sitting position" and kicked by other solders using their knees, among other abuses.
Moreover, he was allegedly pelted with stones by fellow soldiers and forced to crawl across gravel. In one instance, a sergeant dragged Chen out of bed and dragged him over 15 meters of gravel, leaving visible bruises and cuts on Chen's back. Although the incident was reported to Chen's platoon sergeant and squad leader, it was not reported to superior officers. On October 3, 2011, the day he died, other soldiers forced him to crawl on gravel for over 100 meters while carrying equipment, as his comrades threw rocks at him.
Clearly, the death of Pvt. Chen due to racial hazing is not an isolated case. Lance Corporal Harry Lew, an Asian American marine, committed suicide in Afghanistan last year due to racial hazing. After falling asleep on guard duty four times, his fellow corporals order Lew to due push-ups, then stomped on his back and legs and poured sand in his mouth, punched him, and made him dig a foxhole. Three fellow marines were charged with "wrongfully humiliating and demeaning" Lew, but only one of them, who pleaded guilty of assault and given 30 days in jail, was found guilty.
Another racial hazing case involved 20 year-old Army Specialist Brushaun Anderson, an African-American. One of the few African Americans in a unit in Iraq, Anderson was singled-out by his superiors, who applied excessive punishment on him for minor mistakes, ordered him to put on his body armor and do extreme physical exercises, calling him "dirty" and forcing him to wear plastic trash bags. An investigation found that Anderson's battery commander, first sergeant, platoon sergeant, and squad leader were responsible for his maltreatment, but didn't hold them criminally culpable.
So far, five of the soldiers charged with the death of Pvt. Chen have been tried and sentenced. All five have been convicted of crimes, including hazing, racial taunting and assault. Yet, they received light sentences – just 30 to 90 days in jail and a demotion in rank. Just one of them was found guilty of "bad conduct" and recommended for discharge from the army.
The other three will be tried over the next month: A 1st Lieutenant, who knew of the abuses and failed to stop them; a sergeant charged with negligent homicide; and another sergeant, who was the ring leader that ordered lower-ranking soldiers to haze Pvt. Chen.
Clearly, the light sentences given so far for crimes that led to the death of Pvt. Chen sends the wrong message. The military court recommend much tougher penalties to deter hazing in the military, especially when such crimes lead to death.
Hazing destroys army unity and cohesiveness, impacting military preparedness and performance. Hazing, based on race, is a violation of civil rights and doubly bad.
Upcoming trial are critical. To stop hazing, it takes leadership from the top down. The military courts must send a strong message to the chain of command that they have a duty to stop racial hazing.
"Asian Americans love the United States," said OCA-NY President Liz OuYang, "but we cannot serve our country if our government cannot protect us from abuse by superiors. No parent would want to send their son or daughter to the army to be subjected to racial maltreatment, hazing and assault as Pvt. Danny Chen was subjected to by his superiors."
The army chain of command has so far failed Pvt. Chen, Asian Pacific Americans and other persons of color; our justice system cannot.
As Dr. Martin L. King Jr. said: "An injustice anywhere is a threat to justice everywhere."