Saturday 16 June, 2012
Call to Action: Contact Congress About H.Res. 683 Statement of Regret for Chinese Exclusion Acts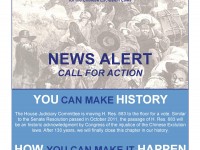 The house Judiciary Committee is moving H.Res 683 to the floor for a vote. Similar to the Senate resolution passed in October 2011, the passage of H.Res 683 will be a historic acknowledgment by Congress of the injustice of the Chinese Exclusion laws. After 130 years, we can finally close this chapter in our history.
Please show your support of this motion by contacting your congressperson and encouraging them to vote YES on the measure.
Full text of the House Resolution can be found here.
For more information on the Chinese Exclusion Act of 1882 and current measures of redress, please visit the 1882 Project.