Saturday 09 June, 2012
OCA EVENT: Membership Meeting & Dragon Boat Celebration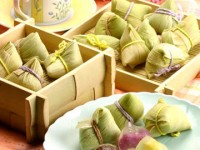 Saturday, June 23, Noon-2 pm
Asian Resource Center
1025 S. King Street, Seattle, WA 98104
Free parking available
Learn about upcoming OCA activities (e.g., Walk for Rice, Golden Circle Award, waterfront seaboard, etc.) and eat Dragon Festival food (zongzi, shumai, etc.) – FREE!
Traditionally, the Chinese Dragon Boat Festival is on the 5th day of the 5th lunar month (Double Fifth). The 2012 Dragon Boat Festival will be on June 23rd (solar calendar). It is a traditional festival of China.
The festival commemorates the death of patriotic poet Qu Yuan (340-278 BC). As a minister in the State of Chu, he supported the decision to fight the might Qins. But Qu Yuan was falsely slandered and subsequently exiled by the King. To show his love and passion for his country, he drowned himself in the river rather than see his country occupied and conquered by the State of Qin. Chinese people with dragon boats searched for Qu Yuan's body; they also threw dumplings wrapped with banana leaves to the river to ensure that fish spare his body.