Wednesday 06 June, 2012
Congressman Jim McDermott (D-WA): Statement on Hazing in the U.S. Military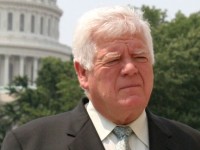 Mr. Speaker, today I rise to remind my colleagues about the ongoing problem of hazing in the United States military. Hazing, particularly racially motivated hazing, undermines our military.
Multiple suicides in 2011 by service members of color after suffering hazing drew increased attention to this problem. These incidents involved dehumanizing service members through racist taunting, harassment and physical assault.
Private Danny Chen, 19, a Chinese American, took his own life in Kandahar, Afghanistan in October 2011 after being hazed. Investigators found that he had been physically assaulted and taunted with racial slurs. Eight soldiers were charged with dereliction of duty, assault and involuntary manslaughter in the death of Private Chen.
In his annual holiday message on December 23, 2011, U.S. Defense Secretary Leon Panetta condemned hazing in the military. He later directed military commanders to review hazing policies and ensure compliance.
At the outset of this year, our colleagues in the Congressional Tri-Caucus called for public hearings and hosted a forum on the issue. In March, the Armed Services Committees' Subcommittee on Military Personnel hosted a hearing on this subject and heard testimonies from U.S. Army, Navy, Marine Corps, Air Force and Coast Guard representatives. Those testifying all agreed that hazing is wrong and should not be tolerated.
However, the hearing also highlighted the need for greater transparency and regular oversight in order to ensure real, measurable success in combating hazing within the ranks of our military.  Thankfully, a portion of the National Defense Authorization Act for Fiscal Year 2013 calls for annual reports by the U.S. Secretaries of Defense and Homeland Security as well as a report by the Comptroller General, which will create help define hazing as well as create systematic means
by which data about hazing can be collected and tracked.
As a result of these reports, we will have the common language, tools, data and communication needed to better prevent hazing in our military. By learning from our failure to protect Private Chen and other victims, we also hope to honor their memory.
Mr. Speaker, we owe an immense debt to our brave members of our military who risk their lives for our national security. I join my colleagues in their steadfast effort to make sure that Congress does its due diligence to ensure that hazing has no place in our armed services.
Related Posts