Wednesday 30 May, 2012
Thank You for Supporting Pvt. Danny Chen from OCA-NY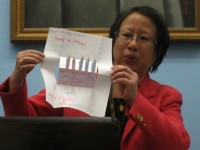 Thanks to EVERYONE who participated in the Birthday Card Campaign for Pvt. Danny Chen. In just ONE month–we collected over 9,000 birthday cards from 25 states and 9 different countries, including Hungary, Denmark, Germany, Sweden, Coatia, and Canada. On May 23rd, a delegation of 8 people from New York traveled by bus to hand-deliver
over 9,000 Birthday Cards to Congress. OCA-NY along with national APA Groups: OCA National, Asian American Justice Center, Japanese American Citizens League and Bruce Yamashita, former Captain, U.S. Marines met with the individual offices of the Chairman of the House and Senate Armed Services Committee of both parties. We sent a strong message
that we do not want them to forget Danny. We voiced our support for anti-hazing legislation that has been introduced in both the House and Senate by NY Congresswoman Nydia Velaquez, CA Congresswoman Judy Chu, and NY Senator Kirsten Gillibrand. NY Congresswoman Velazquez's bill passed in the House earlier last week. We will be sending you soon information from the Asian American Justice Center and OCA National to write to your Senator to support NY Senator Gillibrand's bill! Just like your birthday cards, every voice that a representative hears is another reminder for them to not forget Danny!
Thank you for your continued support.
Liz OuYang, President, OCA-NY and Mackenzie Yang, OCA-NY intern
Related Posts