Tuesday 28 June, 2011
OCA Youth Legacy Project : Journey of Jasmin Eng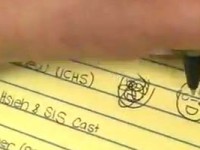 OCA's very first "Legacy to Leadership Documentary" production. Jasmin takes us onto her journey to discover her role and part in the APIA community. See where she's gone and where she's going next!
Featured in the International Examiner Volume 30 No.10

Hello! My name is Jasmin Eng and I'm a University of Washington student and intern of the OCA "Youth Legacy" program. The picture you see before you may look like a random photo of a girl jumping midair. My answer is, yes it is. But it is also a metaphor to my journey in becoming a part of the API community of Seattle. The purpose of this internship is to connect the interns with the community through volunteer work and video production to create API leaders. This photo represents the jump, that leap of a chance I took with myself to take upon such a project. When I began this internship, I wasn't sure if I could be a strong, independent leader like the ones I interviewed such as Kim Nguyen, Ron Chew, Diem Ly and Kathy Hsieh. What I did walk away with is the curiosity to learn and a growing passion to make change. By giving me a gentle push into helping the community, this internship has proved to me that I can also be a leader and I've even started to develop ideas of my own on how to make positive change. I hope you all enjoy the first video I've created charting my leap into the API community. Thank you!

– Jasmin Eng
Jasmin Eng is currently an OCA intern studying at the University of Washington. She is part of OCA's Legacy to Leadership Documentary Internship Program.